THE RELEVANCE OF AFFECTIVE & SOCIAL NEUROSCIENCE TO EDUCATION
Attention to the social and emotional dimensions of learning and teaching in schools is critical to academic achievement, and foundational to the development of crucial life skills, such as problem-solving, critical thinking, adaptability, and collaboration. This claim is anchored in current, cutting-edge neuroscience research. Recent advances in this field show why and how emotions and cognition are interrelated dimensions of human social functioning. A compelling, gateway article, "We Feel, Therefore We Learn: The Relevance of Affective and Social Neuroscience to Education," by Mary Helen Immordino-Yang and Antonio Damasio (2007), provides a foundational explanation of why and how emotion and cognition are interrelated dimensions of human social functioning, and how neurobiological perspectives shed light on learning and teaching:
"The aspects of cognition that are recruited most heavily in education, including learning, attention, memory, decision making, motivation, and social functioning, are both profoundly affected by emotion and in fact subsumed within the processes of emotion. Emotions entail the perception of an emotionally competent trigger, a situation either real or imagined that has the power to induce an emotion, as well as a chain of physiological events that will enable changes in both the body and mind (citing Damasio, 1994). These changes in the mind, involving focusing of attention, calling up of relevant memories, and learning the associations between events and their outcomes, among other things, are the processes with which education is most concerned." -- Mary Helen Immordino-Yang & Antonio Damasio, 2007

Dr. Mary Helen Immordino-Yang's keynote, "We feel, therefore we learn," delivered to over 1,000 delegates at the "Mind and Its Potential" November 2011 conference in
Sydney, Australia ->

In a more recent
article
"Rest is Not Idleness: Implications of the Brain's Default Mode for Human Development and Education," Immordino-Yang, Christodoulou & Singh (2012)
advocate for teaching & learning practices that promote greater balance between internal reflection and external attention; in this article, they coin the term,
"constructive internal reflection."
---
Want to learn more about the clear relevance of neuroscience to teaching/learning in schools?
Neuroscience & the Classroom: Making Connections
"
is a free-of-charge distance-learning self-contained course that is distributed by the Annenberg Foundation. The course was designed by Kurt Fischer, director of the Mind, Brain, and Education Program at Harvard University Graduate School of Education; Mary Helen Immordino-Yang, assistant professor of education at the Rossier School of Education and assistant professor of psychology at the Brain and Creativity Institute, University of Southern California; and Matthew H. Schneps, George E. Burch Fellow in Theoretic Medicine and Affiliated Sciences at the Smithsonian Institution and director of the Laboratory for Visual Learning at the Harvard-Smithsonian Center for Astrophysics (CfA). This multimedia course involves six units; each unit includes numerous integrated videos, with sidebars that include additional information, and resource lists" (
http://www.learner.org/courses/neuroscience/about/about.html
).
---
THE RELEVANCE OF AFFECTIVE AND SOCIAL NEUROSCIENCE TO TEACHER EDUCATION:
---

"Until teacher preparation programs are reconceived to incorporate relevant research from the neuro- and cognitive sciences, teachers need translation and guidance to effectively use information about the brain and cognition. Absent such guidance, teachers, schools, and school districts may waste time and money pursuing so called "brain-based" interventions that lack a firm basis in research. Meanwhile, the success of our schools will continue to be narrowly defined by achievement standards that ignore knowledge of the neural and cognitive processes of learning" (Hardiman et al., 2010).
Hardiman, M., Rinne, L., Gregory, E., Yarmolinskaya, J. (2010). Neuroethics, Neuroeducation, and Classroom Teaching: Where the Brain Sciences Meet Pedagogy. Neuroethics, 5:135-143.


As
Mariale Hardiman
(creator of Brain-Targeted Teaching®) asserts in the below excerpt, "fundamental knowledge of how the brain works should be an important component of teacher preparation programs" - to fully prepare teachers to reach
all
students in effective ways:
"Educators need at least some knowledge of brain structure and function in order to incorporate findings [from the brain sciences] into their teaching practice. As emerging research in neuro- and cognitive sciences continues to detail how children learn, fundamental knowledge of how the brain works should be an important component of teacher preparation programs." -- Mariale Hardiman, 2012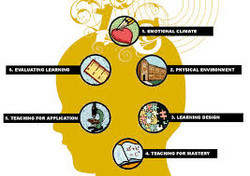 From The Brain-Targeted Teaching® Model website:
In order for any research, especially current brain research, to become readily accessible to teachers, fragmented initiatives must be integrated into a cohesive model of instruction. Brain-Targeted Teaching® is designed to meet this need. It provides teachers with a format for using research in the neurosciences as well as research-based effective instructional practices to guide them in planning, implementing, and assessing a sound program of instruction. The model also assists administrators, supervisors, and professionals supporting instruction as they guide teachers in implementing research-based effective teaching strategies.
---
"Neuroscience research implications for teaching are an invaluable classroom asset" because, "teachers who are prepared with knowledge of the workings of the brain will have the optimism, incentive and motivation to…help all children build their brain potential." -- Judy Willis, 2012

Emotionally attuned teaching and learning in PreK-12 schools is essential to successful fostering and development of crucial life skills for students of all backgrounds and abilities. Louis Cozolino is one among a growing number whose research substantiates this claim. As Cozolino (2013) writes in his book, The Social Neuroscience of Education: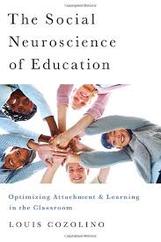 In just a few decades, we have come from the first articulations of the brain as a social organ, to a broad understanding of neural networks, regulatory systems, and biochemical processes that serve human relationships…The old notions of the brain as machines or computers are inadequate in the face of the social-emotional processes woven into the ways we process information. In the face of all of these findings, educational theorists must address the essential inextricability of intellectual, emotional, social processing that places secure attachment at the heart of learning (Cozolino, 2013, p. 70).

---
---
---
ALSO:
Willis, J. (2005). "Why Teacher Education Should Include Neuroscience and Primer for Use in Teacher Education about the Neuroscience of Learning" ASCD Resources: (http://groups.ascd.org/resource/documents/110564-NeuroscienceofLearningPrimer.pdf

Willis, J. (2012). A Neurologist Makes the Case for Teaching Teachers About the Brain. Edutopia website - Brain-Based Learning Page (http://www.edutopia.org/blog/neuroscience-higher-ed-judy-willis)