What is the Massachusetts Consortium for SEL-TEd?


The Massachusetts Consortium for Social-Emotional Learning in Teacher Education (SEL-TEd) was created in the spring of 2011, as a branch of the

Social-Emotional Learning Alliance of Massachusetts

(SAM). This consortium includes teacher educators from a range of programs in Massachusetts. The overarching goal of this group is to advocate for systematic integration of SEL research & practice in the state's teacher education programs -- primarily in terms of PreK-12 teacher preparation, but also including the preparation and initiation of principals, school psychologists & social workers.

above slideshow photos from:

MA. CONSORTIUM FOR SEL-TEd BREAKFAST FORUM
KEYNOTE SPEAKER: DR. MARIALE HARDIMAN

Dr. Mariale Hardiman is Professor of Clinical Education at Johns Hopkins University, and Co-founder/Director of the JHU School of Education's Neuro-Education Initiative (NEI), an innovative cross-disciplinary program. She is the creator of

Brain-Targeted Teaching®

. During her keynote presentation at our 10/17/14 Breakfast Forum @ Boston College, Dr. Hardiman discussed promising efforts to apply and integrate affective &

social neuroscience into

teacher preparation.
---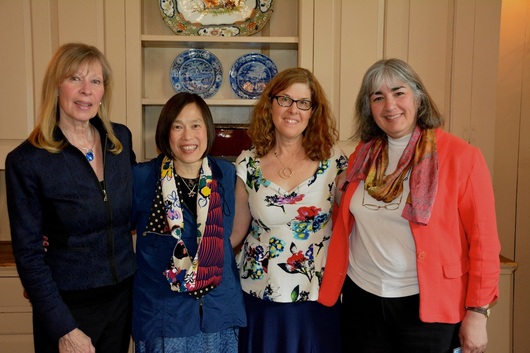 MA. Consortium for SEL-TEd Design Team members at the April 2014 Massachusetts Association for Colleges of Teacher Education (MACTE) conference: Teaching All Children: Social-Emotional LearningFrom left to right: Joy Bettencourt, Catherine Wong, Deborah Donahue-Keegan & Eleonora Villegas-Reimers
FOR CONFERENCE HIGHLIGHTS AND RESOURCES,
GO TO THE MACTE WEBSITE!
---
---
---

[Teaching] is a very, very intense kind of work. You have to be able to relate well to a variety of students, and other adults. You have to be able to manage relationships on an ongoing basis. You have to be able to calm yourself, and be deliberative in working in situations that are very unpredictable."
- Linda Darling-Hammond on The Value of Social and Emotional Learning for Teachers (Edutopia video, 2007) --> --> -->

---